Fleabag is a one-woman play written by and starring Phoebe Waller-Bridge. It was performed at Wyndam's Theater in London and broadcasted for audiences live through National Theater Live, which then hosted encore screenings in select theaters across the US. Fleabag is a raunchy, quirky, and sometimes completely heartbreaking meditation on the trials and tribulations of mid-twenties womanhood. (JRL: 4/5)
Review by FF2 Intern Julia Lasker
Fleabag (played by Waller-Bridge) is a woman in her mid-twenties who runs a guinea pig cafe (which, she specifies, is not a cafe for guinea pigs; it is guinea pig themed). She opened it with her best friend, Boo, who has since died from walking into the bike lane on a busy street. It wasn't an accident, but she also didn't mean to die–she just wanted to make her ex-boyfriend feel guilty for cheating on her. This left Fleabag to do the things that Boo was always better at, all by herself: run the cafe and to take care of the guinea pig that inspired it all, Hillary.
Fleabag isn't entirely alone in all of this; she has her rather insufferable family. This includes Claire, her sister, an uptight but incredibly successful businesswoman who is constantly questioning her life choices, and their father, an unavailable and broken man who married Fleabag's godmother after the death of her real mother. With only her failing cafe and an emotionally distant family to her name, Fleabag attempts to find meaning in life as she navigates sex, feminism, rodent-like men and misogynistic bosses at job interviews. 
What I find to be so brave about Fleabag is that Waller-Bridge is unafraid to create a leading lady who is completely and utterly flawed. Fleabag is a mess: she is not successful, she is not a beacon for feminist ideas, and she is certainly not a hero. It seems to me that female characters written by women are often portrayed in a very flattering light, almost so as not to tarnish women's names when given these limited opportunities to express themselves. But Waller-Bridge isn't worried about pleasing men, or anyone really. She just wants to show something real. Fleabag is a character who can reach all the women who just don't identify with the strong, successful female lead thing.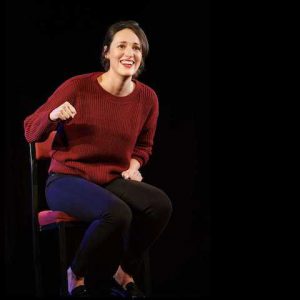 I worry, though, that the format of Fleabag might be alienating for people who aren't beautiful young women. The one-woman show format allows us to delve deep into her psyche, which contains thoughts and ideas that wouldn't really exist in anyone besides a young woman. Although it is by no means necessary for the experiences portrayed onstage to be universally recognizable, Fleabag's humor relies on a certain view of the world that can be hard to access for those who don't share her experiences. She talks extensively, for example, about her various one night stands with strange men. The things she talks about might not resonate with a wider audience like they did with me and others like me. On the other hand, perhaps it's still important to show others the sheer pain and misdirection of young womanhood without any sort of sugar coat. 
Beyond its political importance, Fleabag is simply a wonderful and enjoyable piece of art. Though I would've liked to be present in the audience of the stage performance, I could still hear the monstrous laughter from the crowd and feel just how affecting Waller-Bridge is as a performer. Though it's hilarious, the best part of Fleabag isn't even it's comedy; it's when the laughter subsides and Fleabag's stream-of-consciousness turns introspective. The audience still has stitches from laughter when they're hit with emotional, vulnerable and downright heart-wrenching meditations on what it is to be a broken woman. Waller-Bridge has an incredible talent in that she can create something that inspires both laughter and tears within a ten-minute span. 
© Julia Lasker (10/20/19) FF2 Media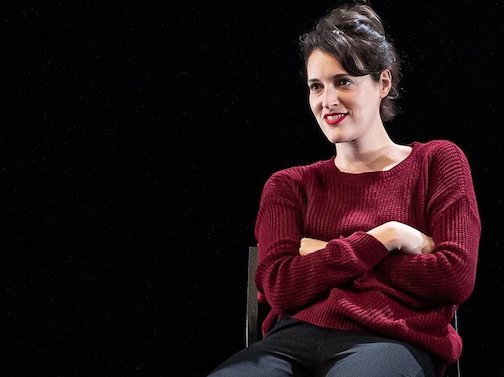 Photos: Phoebe Waller-Bridge as "Fleabag" in the recorded live performance
Photo Credits: National Theatre Live
Q: Does Fleabag pass the Bechdel-Wallace test?
A: Definitely! It's a one-woman show for Heaven's sake!