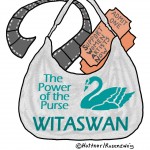 On July 21, 2008, Linda Henning Cohen, the new President of AAUW-Illinois, sent me a letter concluding as follows:
"The AAUW-Illinois Board thanks you for your years of developing and promoting WITASWAN and wishes to acknowledge your outstanding accomplishments with the enclosed proclamation."
THANK YOU, AAUW-ILLINOIS!!!
You will always be credited as the original incubator of WITASWAN. I never could have achieved any of this without active support from AAUW-Illinois Board & Branch members all across the state.  My six years of service on the AAUW-Illinois Board (in the roles of Director of Leadership Development, Director of College/University Relations, & Director of International Relations) have been the source of friendships that are sure to last a lifetime 🙂
The acronym WITASWAN (wit-uh-swan) stands for Women in the Audience Supporting Women Artists Now.
Download certificate as a pdf: CertificateKOD