Women are continuously getting shut out of Hollywood. From Jennifer Lawrence's open letter on the gender pay gap to Maureen Dowd's New York Times Magazine exposé, "The Women of Hollywood Speak Out," the fight for equality rages on. [Read filmmaker Rachel Feldman's response HERE].
Part two of three by FF2 Media Associate Editor Brigid K. Presecky
In an opening scene of Selma, "Annie Lee Cooper" (played by Oprah Winfrey) tries to register to vote, having complied with the local rules of reciting the Constitution's preamble. "I ain't stirring no fuss," says Cooper, "I'm just here trying to register to vote" she says before providing officials with an accurate recitation of the preamble. But like many power structures, the rules continuously change without warning. The registrar office clerk asks Cooper, "How many county judges in Alabama?" "Sixty-seven," she replies. "Name them."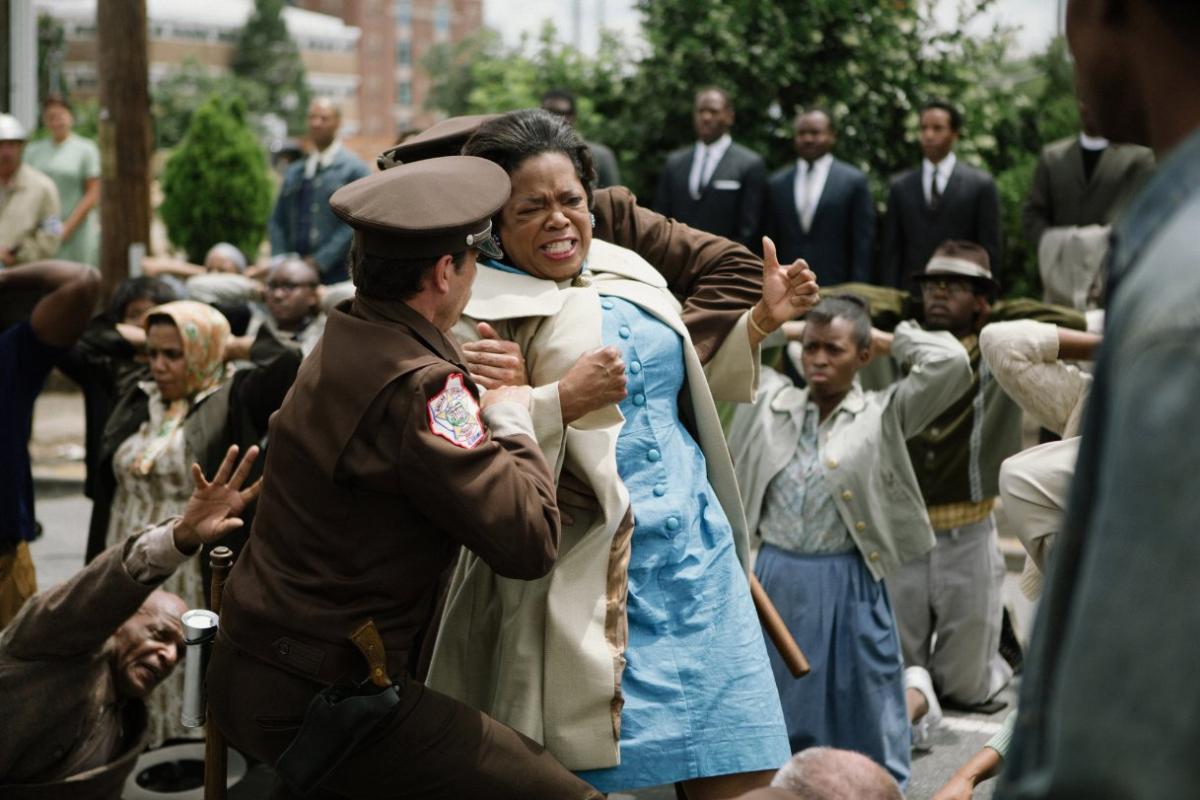 Not anyone, at least not anyone like Cooper, is unfairly asked to hit a moving target or asked to respond to discriminatory rule changes. From the monumental efforts of the Civil Rights Movement to fictionalized stories like To Kill a Mockingbird, and more recently, CBS' legal drama The Good Wife, the oft-repeated theme of "disparate impact" has found its way to millions of entertainment consumers.
Disparate impact is defined as "a facially neutral employment practice that does not appear to be  discriminatory on its face; rather, it is one that is discriminatory in its application or effect." The U.S. Supreme Court has labeled disparate impact as "a discriminatory effect, even if it wasn't motivated by an intent to discriminate." A SCOTUS blog goes on to state, "the distinction matters because it is rare for anyone to admit that a law or practice is intended to be discriminatory; civil rights groups believe that disparate-impact claims are an important tool to ferret out more subtle examples of discrimination."
Film critic Jan Lisa Huttner says, "When there is proof of 'disparate impact,' then it's not enough to say 'Surely, you don't think we intend to discriminate.' Clear proof of disparate impact requires an affirmative response: We are not intending to discriminate but clearly something is wrong here, so we must take steps to create more balance."
A recent episode of The Good Wife features a court case involving their fictional search engine client, "ChumHum," that highlights a classic example of disparate impact. In the episode, the map feature on the faux search engine separated neighborhoods based on their alleged safety. Although racism was not their cited intention, the map feature can be interpreted to infer more than relative safety – resulting in disparate impact. Like To Kill a Mockingbird and The Good Wife, disparate impact examines which existing policies and procedures unintentionally reinforce the status quo.
In the case of Annie Lee Cooper, she was given all the reasons why she did not pass the test and, therefore, was not qualified to register to vote. Huttner explains, "If none of the Annie Lee Coopers are allowed to vote, it can't simply be the case that none of them are qualified. It has to be the case that you're doing something intentionally or not. We do not impugn our motives, but something's gone wrong and we need to examine the structures of the system. Otherwise, it is never going to change."
So, how does disparate impact necessarily affect women in Hollywood? Consider the 2008 Oscar-winning film, Slumdog Millionaire. The Internet Movie Database credits the film's directors as Danny Boyle and Loveleen Tandan. In a 2009 interview for WomenArts, Huttner asked Boyle about his female co-director, "What did each of you bring to Slumdog Millionaire from a male/female perspective?" Boyle raves about Tandan's many contributions in his answer, calling her a "proper director" and someone he "needed everyday."
However, the morning of the Golden Globe nominations, when Danny Boyle was nominated for Best Director, Loveleen Tandan's name was nowhere to be found. Huttner wrote a letter to Chantal Dinnage, the head of the HFPA (Hollywood Foreign Press Association), stating, "Please explain: If Loveleen Tandan is co-director during the production phase and co-director during the marketing phase, why is she the invisible woman during awards season?"
Huttner pushed for AAUW (American Association of University Women) Chicago Branch President Lori Switzer to write a letter to Bruce Davis, executive director of AMPAS (Academy of Motion Picture Arts and Sciences). In her letter to Davis, Switzer reinforced Huttner's position, asking, "We would like to ask why Loveleen Tandan is listed as Slumdog Millionaire's co-director in the film credits according to the Internet Movie Database, but she is not listed as co-nominee for (a) Best Director Oscar? A longtime, loyal and active member of AAUW, Jan Lisa Huttner, has alerted the branch to this apparent oversight. We believe she had raised a legitimate issue that should not go unnoticed."
On February 5, 2009, Bruce Davis responded. While he said he appreciated AAUW's interest in the motion picture art form, he insisted that there had been no oversight. Ms. Tandan's co-director credit was merely a "term of art, and one that is understandably confusing to those outside of the business." He said, "Ms. Tandan herself understands why she was not eligible for a DGA (Directors Guild of America), Hollywood Foreign Press Association or Academy nomination, and we hope you will let your branch members know that they can rest easy as well."
Once again, disparate impact is clear – but never addressed. When a person is nominated for an Oscar, their name automatically appears on guild lists for subsequent years. Consequently, and based on statistics, men increasingly dominate the percentage of guild members every year.
Continue reading: Part III
© Brigid K. Presecky FF2 Media (12/15/15)
Photo Credits: Loveleen Tandan (ITB Berlin), Meryl Streep (The Daily Beast) Jennifer Lawrence (Vogue) Oprah Winfrey in Selma (Paramount Pictures), The Good Wife (Paul Sarkis, CBS), Danny Boyle Oscar win (AMPAS)