"Mr. Toilet: The World's #2 Man"—the title itself is enough to catch your attention, but there's so much more than meets the eye in this loaded documentary about one man's endeavor to educate and find ways of providing safe, clean environments in which to do your daily duties.  Documentary filmmaker Lily Zepeda, over the course of nearly six years, follows Jack Sim, the founder of The World Toilet Organization in Singapore, as he travels to India and China raising funds and awareness about proper sanitation. The consequences for those without are unfathomable ranging from deadly health issues to lack of educational opportunities.
I had the opportunity to talk with Zepeda recently just in time for the upcoming World Toilet Day (yes, there is such a thing) on November 19.
Pamela Powell (PP):  Can you tell me a little about yourself and your background?
Lily Zepeda (LZ):  I have a degree in journalism and storytelling isn't that far for me, but I hadn't ever made a film on this scale before.   I do have a marketing background as well … while doing a little bit of production and a little bit in front of the camera. So making the film, I made sure to get a team together that had been doing this for longer than I had.
PP:  How did you become aware of and connected to Jack Sim?
LZ: The Bill Gates Foundation had announced that they were doing a [Reinvent the Toilet] in 2012.   I heard this on the radio and I was like, wait. Is this a joke story? … CalTech University actually won that challenge.  …I called them and… hung out with them for a while [and] they were like, 'If you really think this is so interesting, you might want to contact this guy named Mr. Toilet.  … I had a Skype session with Jack …. and my producer [said] this is a lead character of a film because people aren't really going to take to the gravity of this really gross situation without a childlike really fun humorous character and he was the one. 
PP:  There's a wonderful balance of two stories; Sim's personal story and the sanitation issue.
LZ:  In the beginning it was focused more on the issue and I realized that unless I make it a hero's journey, this isn't going to entertain, it's only to speak to a small niche of people.  …. We realized that after filming for awhile [and] we did a few feedback sessions, it always came back to Mr. Toilet. Who's that guy? What's happening with him? This is so funny, this is crazy, why does he do things like that?  … It just felt more natural to express it that way than to focus on how everybody's dying and have that be the focus. And the truth is … we have a flush it and forget it mentality here so if I could use a little bit of humor, a little bit of animation, I could break the ice and then everybody's open to, "Wow!  I had no idea this is an issue."
PP:  Every interview you have, with his kids, his wife, and his co-workers in the organization is so honest and candid.  How did you establish that relationship in order to derive these authentic interviews?
LZ:  I appreciate you acknowledging that.  I think that, for sure, that takes time.  One of the things that I was lucky about was his wife and kids were used to him being interviewed, so at least they're used to cameras hovering.  However, they didn't realize it was going to be turned on them, so one of the things that I did is just spend a lot of time with them without the camera.  His wife is very social. She's in all these social circles and would invite me to Zumba and she's like, "Hey, do you want to go to a spa?" And we would always have to explain to her that I'm paying crew.  I can't just like go to the spa with you, but I'll have late lunch with you for sure and I'll go to Zumba real quick as long as I can film you after. … It took longer with the kids to trust and once they did, it was fine.  I just found ways to make them feel comfortable. 
[His co-workers] … know that Jack can take honesty. … Also, it's hard not to state the obvious.  He is quite unfocused. I heard it yesterday when [Sim] was being interviewed, his defense is that he doesn't carry stress like you and I from the day.  … So if something is happening, that's all he's present with. Then that thing moves out of his body and his brain and he's on to the next. … It's hard to be inside the mind of somebody like that so I just accepted that that's the way he navigates the world.
PP:  Is that a blessing or a curse?  (Laughing)
LZ: I think it's for sure both because he can sure be annoying, but he can also be so brilliant.  Super annoying! (Laughing) We're both annoyed with each other, but we admire each other. (More laughter)
PP:  What was Sim's response to seeing the film?
LZ:  He hasn't really seen it for an entire five years until it premiered at Hot Docs in Toronto.  For the very first time, … I was actually quite worried that he would be annoyed by something.  The only worry and concern that he had was if I was going to ruin his relationship with India or any potential to still work with them again.  … I protected his ability to be able to continue to do his work and still tried to show the truth. He felt that it was a very human take, that's what he kept saying.  … It's easier for you to talk about my struggles than for me to sit here and complain about my struggles.
PP:  What was the most striking thing you learned as you filmed?
LZ:  I think what really struck me more in my heart is meeting young girls that were around age 15 or so and they were would calmly say, "Yeah, we just dropped out of school."  Pretty natural because they start their period and there's really not great facilities for them. … [Instead] maybe help the parents out and wait to get married. … So seeing for myself in a young girl's eyes was what also motivated me.  In the beginning, to be honest,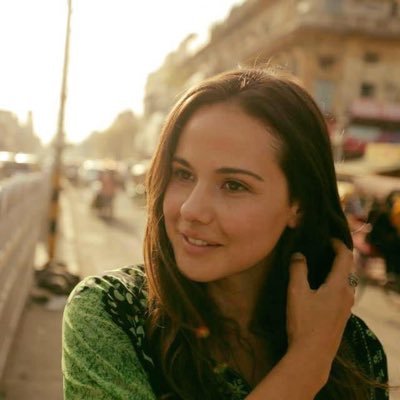 was Jack's boldness and humor that motivated me, but actually being there was seeing young girls that I could have been. 
PP:  On a less serious note, how many puns on this subject have you heard?
LZ:  People try to tell me a new joke and I have to pretend that I hadn't heard it before.  So when someone who comes up with one I hadn't heard before, I'm actually quite impressed.  I have so many! The big ones are 'Poop jokes aren't my favorite, but they're a solid number two.' Jack has more than I do!  He has way more.  
****
This witty and informative documentary will be available at Doc NYC on 11/14 (in time for World Toilet Day) and opens at Village East Cinema on 11/22. Zepeda hopes to screen the film for Bill and Linda Gates at the end of the month and to begin to incorporate this film, in an edited version, into school curriculum, increasing education which has been a result of winning the Docs for Schools award at Hot Docs.
© Pamela Powell (11/11/19) FF2 Media | Photo credits: Latrine Dreams Productions